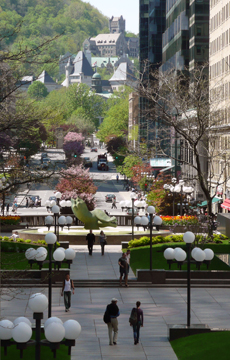 Our design consultation is extensive in both the public and private sectors and includes the municipalities of Montreal and Westmount; the government agencies of Public Works Canada, the National Research Council, and the National Capital Commission; the corporations of Canadian National, Honda Canada, Canadian Pacific, Marriott and Fairmont Hotels; as well as the private developments of Trizec, Intrawest and the Aga Khan Serena Resorts.

Public Landscape networks are linked through the Park Systems; Boulevards and Streetscapes; Plazas; Corporate Entrances; Courtyards; Atriums and Roof Gardens.


Creating Environments and Memories
- Our mandate is to transform wasteland into wonderland, imagined fantasy into tangible reality.
- Creating memories, places to dream and create in, along a path instilling response or repose.
- Creating environments for participation or contemplation, drawing upon the distant "borrowed landscape" from a winter window, or the contained view of a snowy screened atmosphere.
- At the same time dealing with the undeniable fact and impact of winter at the poles and tropical or arid summer in between.