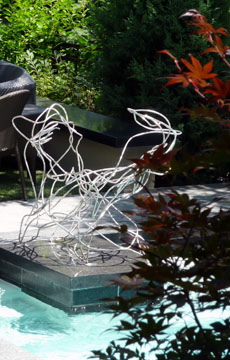 In the urban context, our projects extend over a broad horizon, including the renaissance of the plazas of Place Ville Marie and the cultural institution of Place des Arts; the preliminary urban design of Faubourg Quebec, the historical roof garden of the Château Frontenac Hotel; as well as the industrial developments of the National Research Council I.G.M. and the Parks Canada Restoration Facility in Ottawa.

In the more natural environment, our projects at Whiteface Inn Resort on Lake Placid; the ecological reserve of the Westmount Summit of Mont Royal; the Vieux Village of Mont Tremblant Ski Resort and the mountainside private golf compound in the Eastern Township; required the sensitive development of sites blessed with spectacular natural features to be preserved and enhanced.

Internationally, we designed the garden courts at the hotel resort complexes for the Aga Khan Serena Hotels at Faisalabad and Quetta in Southeast Asia and the Xisanqi New Garden Multi-use Quartier of two square city blocks in Beijing, China.