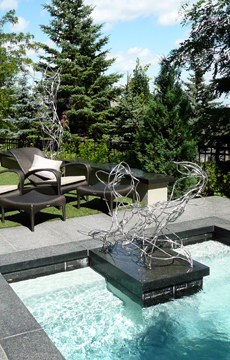 Linking all Criteria
- Our design approach is always holistic in nature, integrating landscape with architecture, interior design and industrial design. Add to this, the integral element of Fine Art as a focal point within this frame.
- As Landscape Architects, we are in the optimal position to be the catalysts guiding and enabling the fusion of the technical, built, and natural elements, while safeguarding the environment.
- Our liason/position will go beyond the obvious focus of style and profit to keep in mind the ultimate power of the forces of nature (easily forgotten until the next earthquake, tsunami, volcano, flood, or landslide...).
- This holistic approach incorporates all design disciplines; senses; seasons; and "view points", to and from the site.


Natures Evolution
- History is evidence of the short memory and attention span that allows the deterioration of green places and ideas.
- Forty years ago, there was an enthusiastic focus on roof gardens, adventure playgrounds and compact car parking lots.
- Equally tragic is a return trip to world class/innovative contemporary sites (such as the works of Luis Baragan), and witness them in ruins due to a lack of interest and funding for maintenance. Now we only have the coffee table book as a record of the ingenuity of the concept, this transpiring within the creators lifetime.
- Yet, every year, out of the frozen earth flowers break through, an asphalt jungle is demolished or a raised forest springs back up, giving us another chance to do it right.